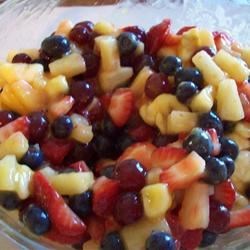 A quick and yummy addition to any summer party!!
2 20 ounce cans unsweetened pineapple chunks
2 3 ounce packages vanilla pudding
2 1/2 cups orange juice
1 small cantaloupe, cubed
3 1/2 cups cubed honeydew
2 cups fresh strawberries, halved
2 cups fresh blueberries
2 cups seedless green grapes
2 medium firm bananas, sliced
Drain pineapple reserving 1 cup juice, set pineapple aside. In a large saucepan, combine the pudding mix, pineapple juice and orange juice. Cook and stir over medium heat until mixture boils and thickens. Remove from the heat; cool. In a large bowl, combine the pineapple, melon, berries, grapes and bananas. Drizzle with pudding mixture. Refrigerate until serving. Enjoy!!