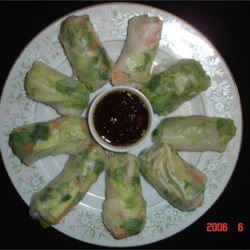 This is a fresh and yummy recipe that you can make for lunch or as an appetizer. You will LOVE it!!
6 spring roll wrappers (by the tofu in your grocery store or Asian markets)
12 medium shrimp, cooked and shelled
1 cup shredded leaf lettuce
1/2 avocado, sliced
1/2 cup peeled, seeded, chopped cucumber
1 medium carrot, julienned
Quick Thai Dipping Sauce:
1 tablespoon light soy sauce
1 tablespoon white-wine vinegar or rice vinegar
3 tablespoons mirin
1/4 teaspoon fresh grated ginger
In a bowl of cool water, soak a wrapper until limp. Lay wrapper out flat. Place 1/6 of each ingredient down middle of wrapper, starting with lettuce. Fold over each end and tightly roll the wrapper around the contents, as if making a burrito. Moisten at seam; press to close. Lay on plate, cover with moist paper towel and refrigerate until ready to serve. Then slice in two and serve with Quick Thai Dipping Sauce, below, or peanut sauce. To make the Quick Thai Dipping Sauce, combine all ingredients in a small bowl....Yummy!!